We are delighted that ProximaX was recently featured by Net Ease News China (网易新闻) and is described by them as a hidden gem. We have translated it for your reading pleasure and information.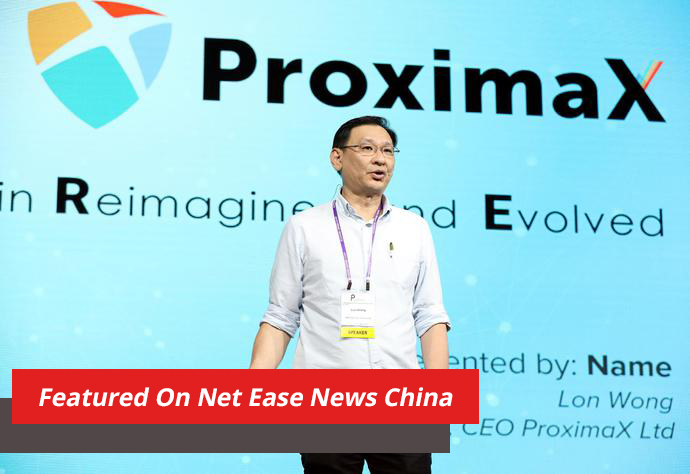 Blockchain has been touted to revolutionize the way systems and companies work. The combination of distribution, immutability, encryption, tokenization, and decentralization can bring immense benefit and cost savings to organizations and governments.
It has been over 10 years since Satoshi Nakamoto's conceptualization of the blockchain, yet blockchain solutions remain fragmented and inadequate. Whilst many industries recognize the need to implement blockchain technology, adoption has been slow and organizations struggle with understanding and deploying this technology.
Despite this, Gartner, Inc has forecasted that blockchain will generate $3.1 trillion in new business value globally by 2030. Starting with basic blockchain-enabling technologies such as distributed computing, P2P networking, messaging, and cryptography, Gartner postulates that this will evolve into blockchain-inspired solutions before more complete solutions become increasingly available in the 2020s. Post-2025, the market will see the entry of enhanced blockchain solutions where blockchain networks will become integrated with solutions such as the Internet of Things (IoT), Artificial Intelligence (AI) and Self-Sovereign Identity (SSI).1
Some industry players have already recognized the need for this evolution and have been paving the way forward by providing complete and enhanced solutions. One such example is ProximaX, a little known blockchain project spearheaded by Lon Wong, the much respected, somewhat controversial former core team member and founding President of the NEM.io foundation.
How did Lon envision such a solution and what drove him to leave one of the top blockchain projects in the world to start anew? To answer this, let us look at Lon's background and little known facts about him.
Lon Wong, visionary, or idealist?
Lon has been an entrepreneur and technologist for over 30 years. An electrical engineer by qualification, Lon spent a few years working as a control and instrumentation engineer before striking out on his own in his late 20s. Even as a consulting engineer, he was a trailblazer, and was among the first in the world to introduce variable speed drives in commercial buildings in Malaysia, where he was living at that time. He was also the consulting engineer to some of the largest projects and buildings built in Malaysia then, often introducing new technologies in the buildings he designed as an electrical engineer.
As a businessman, his foresight and interest in technology drew him to broadband some 7 years before the concept was even heard of in the region. Always ahead of the curve, he founded an Internet technology software development (as they were known in the early days of the Internet) and an ISP company that he managed concurrently. These companies were subsequently bought over by public listed entities.
Lon's fascination with technology continued after his successful exits from his businesses and in 2012, he began studying the concept of blockchain and its application. In 2014, he filed for a patent called "Computer-Implemented Frameworks and Methods Configured to Create and Manage A Virtual Currency", essentially a derivative solution that is asset-backed using blockchain technology. Examples of this concept today are USDT, USDC, and PAX.
Lon's first foray into a project was with Ethereum in late 2013. Although he had much respect for the programmers such as Gavin Woods, he felt that Ethereum was a great experiment and not suitable for real life and business situations. His interest in blockchain did not cease however, as he recognized quickly that this technology would one day become mainstream, powering many systems and processes.
This led Lon to join NEM later in May, 2014. As one of its early and active advocates, Lon worked with the core devs of NEM and played a key role in steering its path. He realized in as early as 2014 though, that merely a blockchain would not be enough and started envisioning a holistic blockchain solution that would encompass blockchain and other complementary technologies. Then, he had thought it was too early for these technologies to come together.
NEM shot into prominence with a market capitalization of nearly $20 billion in early 2018 under his leadership. Despite the fame and success he already had at that time, Lon knew that blockchain solutions were not gaining real-world traction. At around this time, he crystallized an "all-in-one", holistic and easy-to-program distributed ledger technology stack that could easily be applied by most industry verticals.
And with that, ProximaX was born in March 2018.
The ProximaX concept
The ProximaX website describes itself as a "Next-generation Integrated and Distributed Ledger Technology ("IaDLT") infrastructure platform solution powered by blockchain technology."
In short, it is a blockchain-based infrastructure and development platform that combines blockchain with P2P and distributed storage, streaming, database, and Supercontract layers. Developers can develop and deploy applications with the use of APIs and SDKs abstracted from these layers.
The ProximaX Sirius platform as it is called, is a blockchain-based infrastructure and development platform designed for enterprise usage. It uses a hub and spoke approach for each service layer so that they are all independent of one another, apart from relying on the blockchain as a hub for transaction records. This means that more service layers can be included in the future without affecting the performance of the platform.
What has ProximaX done so far?
ProximaX claims that its platform is suitable for most industry verticals, unlike other solutions in the market that are more limited in use. Looking at their list of clients, it appears that their platform is able to provide solutions to a wide range of industries which include:
Government
The Ministry of Community Development, UAE has developed a voting and notary application.
Public sector
In Malaysia, the National Institute of Occupational Safety and Health of Malaysia uses ProximaX as its certification traceability platform. The Securities Industry Development Corporation also utilizes the ProximaX platform for its blockchain-based ERP system.
Military and surveillance
Artemiz Innovations is using the ProximaX storage service layer to store and manage military surveillance data from satellites and drones.
E-commerce and rewards program
CashCart is an e-commerce company that uses ProximaX blockchain and platform to record and manage its shopping, rewards, and logistics activities.
Insurance
Cebuana Lhuillier is utilizing the ProximaX platform to ensure the integrity of insurance policies and claim transactions.
Authentication
Doc on Chain is building its digital signature management and storage system on the ProximaX platform.
Fintech
Dragonfly uses the ProximaX mWallet for its fiat mobile payment solution, the world's first blockchain-powered mobile wallet for fiat currency.
Agriculture
LatConnect 60 is developing its blockchain-based parametric insurance solution with ProximaX.
IoT
Xperanti is working with ProximaX's blockchain platform to complement its Sigfox technology for secured, end-to-end IoT solutions.
Gaming
KS Football and Xarcade are two companies using ProximaX's platform to run their blockchain-driven online games platforms.
Enhanced blockchain solutions
In addition to the above, it is interesting to note that ProximaX itself has developed a few applications on its own platform which may earn itself the title of a "blockchain-enhanced" solution provider.
One such solution is SiriusID, a W3C digital Self-Sovereign Identity(SSI). It is a complete plug-n-play stack that is supported by ProximaX's distributed technology stack with DID document storage, database, Supercontracts, and blockchain.
Next is the Enhanced Distributed Ledger for Exchanges (eDLX), a digital securities management platform that Lon Wong had envisioned much earlier and finally captured in his 2017 paper, "Radicalizing the Equity Market". The 2nd edition of the paper is available here. Although today there are other blockchain projects providing this solution, it is clear that Lon is a far-sighted visionary.
Latest progress
For now, ProximaX continues to evolve. Recent partnerships have taken it to Kenya and Australia. And now, Lon has his eyes on China particularly Hainan island. In his usual style, Lon refuses to say anything more but he has promised to reveal more when "the time is right".
According to its roadmap, the Supercontract and Streaming mainnet service layers will be launched by the end of this year. The Supercontract is an enhanced smart contract that resides off-chain and is mutable by consensus. Once released it will be interesting to see how this will give Ethereum a run for their money. In fact, it will be interesting to see if Lon's vision - the ProximaX platform - is really what the market needs to adopt blockchain, or is it just another great experiment?
Originally published by Net Ease News China here